No time for wasting. This week, I jumped into my online research as I knew I would soon have to get my garden in the ground.
First, I joined the Saskatchewan Gardeners Facebook page. I made a post to determine if one of my plants was a flower or a weed. Very quickly, I had 50 comments about my plant…not a weed! It is a poppy! One of the commenters was able to identify one of the other plants in the picture. I used the Plant look-up tool on my iPhone in my pictures which confirmed what the comment said, it is a Lamb's Ear.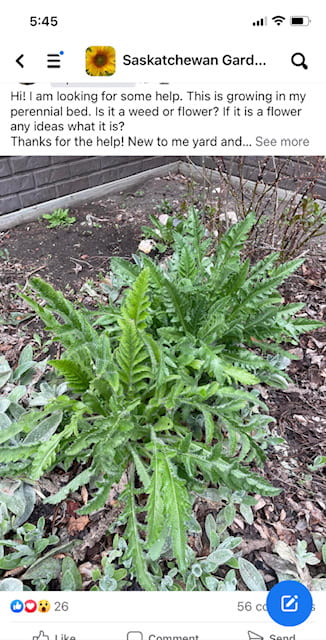 Next, I used Feedly to start gathering articles related to my topic. I really like this site. I have to check only one place every few days and read the new articles. I have also found that some of the article sources are better than others and can look on those pages for other articles of interest. Here are a few articles that I found helpful this week:
Lawn care: From this article, I learned that I should mow the lawn every two weeks and keep the lawn length to 3.5 inches. It also talks about not cutting the grass in May. We had already cut the grass this month so I was too late to take that advice. The reason for that is to help with pollination. Other ideas for pollination that were given are to put a Hummingbird feeder, bird bath, bee house and a variety of coloured flowers to attract pollinators. So far, we have added a Hummingbird feeder and bird bath to our front garden bed. Below are not my pictures, I hope to have a few of my own pictures with birds soon.
Growing Vegetables– I took the advice from this article to prepare my vegetable garden for planting. I added cow manure to the soil and mixed it up together to raise the nutrient level in the soil. They also suggested adding fertilizer to the soil before planting, which we did. The greenhouse had cow manure and sheep manure. In reading both packages they seemed to do the same thing so of course I asked my toddler if he would rather have cow poop or sheep poop in the garden. His choice was cow so cow manure it is.
This article is specifically about tomatoes. They prefer full sun in the garden, which helped decide on garden placement. We purchased Beefsteak seedlings as they have the potential to grow larger tomatoes. Stay tuned for more about tomatoes in a later post.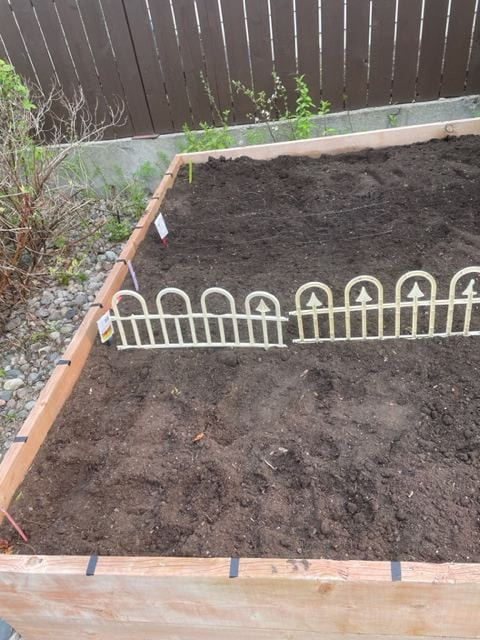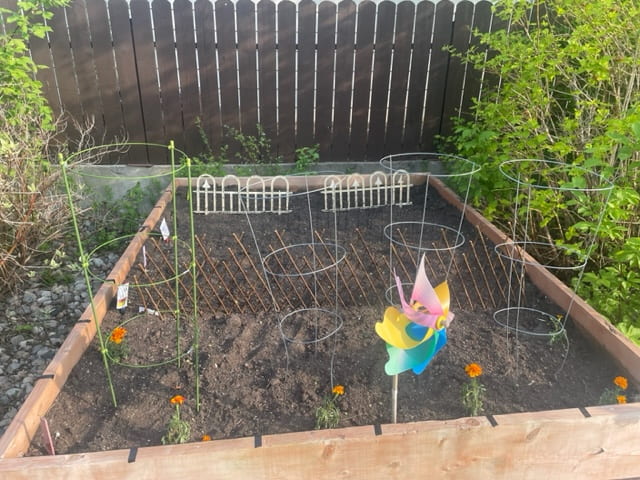 When to Plant?: This site has lots of great information for beginner gardeners such as the easiest veggies to grow, how to decide what to plant, and guidelines for arranging the vegetables in the garden. This article led me to the planting calendar. This is a very cool web page. You input your postal code and it tells you when is the best time to plant seeds and seedlings based on the last frost in that area. I learned that I am late planting my carrot, green bean and pea seeds. They should have been in the ground by May 11th and I got them in the ground May 21st. I will plant my tomato plants and cucumber plants between June 15th and 29th as the almanac suggests.
Companion planting: The article shows which vegetables should be planted together and which you should avoid for the best growth. I used this article to decide the best placement for the vegetables and which vegetables to plant.
I also watched this video to help me decide on plant placement in the garden. The video and article are about square-foot garden designs. Look back at the garden picture and notice black tape. This is where I measured out each foot to help space the garden properly.
The last thing for this week is Aeration. My brother called me and said he was renting an aeration machine for an evening, would I like my lawn done as well? How perfect, I thought. This will fit in so well with my project, that he is unaware of. Of course, I told him to come on over. I did the research after the aeration was done. It will allow to the water to get in deep to the roots and help with the compression of the lawn.
I hope you will come back next week to see how the garden is growing, learn about spring perennial care and find out what other mystery plants are growing in my flower beds. I would love any tips, tricks or gardening advice you have to share!